For each watch we sell in July and August, we will plant a tree for a better environment.
Thank you to everyone who purchased a smartwatch in July and August.
You're helping to plant over 37 acres in British Columbia!
XPLORA + ONE TREE PLANTED
Our vision is to enable children around the world to experience how their everyday activities can make a positive change to the world. And we know that even small steps can make a big impact. So, we've partnered with One Tree Planted to plant trees! One Tree Planted is 501(c)(3) nonprofit dedicated to global reforestation. They plant trees to restore nature and biodiversity. They also raise awareness about the importance of trees and motivate younger generations to do something positive for the environment.
For every smartwatch purchased, we will plant a tree.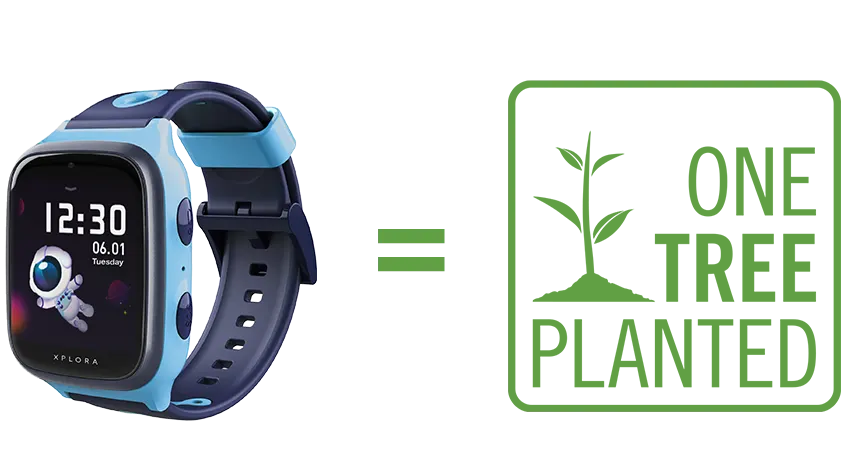 - World Wide Fund for Nature
Together with One Tree Planted, we will plant a tree in British Columbia for every smartwatch purchased in July and August. The trees will be planted in Fall 2020.

British Columbia is Canada's most ecologically diverse province. It has the country's only temperate desert, near Osoyoos in the far south, and North America's wettest weather station, on the west coast of Vancouver Island. It has temperate rainforests, dry pine forests, boreal forests, alpine tundra, grasslands and more. More than 1,100 species of birds, fish, mammals, amphibians and reptiles live in B.C., some found nowhere else in Canada.

In summer 2017, British Columbia experienced the worst wildfire season in its history. It was unprecedented in the amount of land burned (over 1.2 million hectares), the total cost of fire suppression (over $568 million), and the number of people displaced (roughly 65,000 evacuated).

Recovering from such significant wildfire damage will take careful forest management. Planting trees here will effectively help to get B.C's trees back to health again.

- Enviromental Defense Fund
Planting trees is one of the best ways to combat the damaging effects of climate change. Trees help clean the air we breathe, filter the water we drink and provide habitat to over 80% of the world's terrestrial biodiversity. Trees also provide tremendous social impacts by providing jobs to over 1.6 billion people, empowering women in underdeveloped nations, and supporting communities devastated by environmental damage.